Swifty | ♍ | ⚜ | 18 | Female

Hi hi! I'm Swifty!

I've been a deviant on this site for longer than my page tells you...member since '08, I think? Maybe '09.
My work is mostly focused around furries and ferals, with a little bit of human mixed in every once and a while. I'm not a beginner, but I am definitely far from being anywhere near professional.


| Artist | Book Addict | Roleplayer | Rat Lover |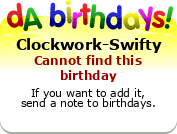 :thumb306768523:
"Thanks for the favorite!" messages will be ignored. I will acknowledge it, but do not expect a reply.